As the business environment grows increasingly global and complex, Human Resource will need to play a more active and aggressive role in setting the company strategies and ensuring their effective execution. We understand the challenges so in order to get the right candidates for the right jobs, we have forced ourselves to always have a rigorous recruitment process which ensures that our customers/clients would be quite satisfied with our professional services. This, of course, enables us to ensure we deploy the selection of applicants within the time stipulated by our customers/clients.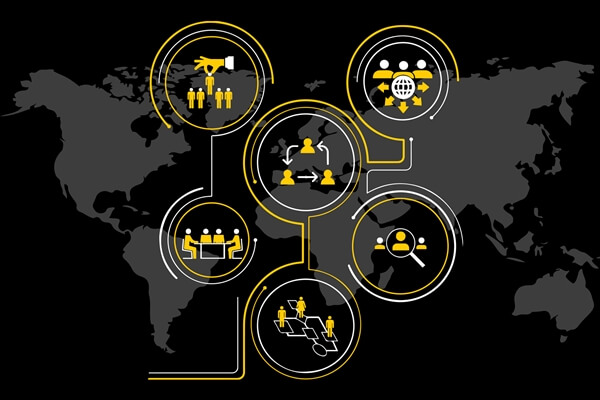 HERE ARE OUR STEP BY STEP PROCESSES
1. Talent Searching & Recruiting:
LOKOBOL has an extensive computerized databank that undertakes the collection, retrieval, and analysis of information as to proposals for work and job opportunities, credit ratings and other subjects of trade interest. Called "Discovery Portal", it is currently amongst the top ten largest in volume but most definitely the best in function and detail. 
We have a nationwide network of executives who are quite adept at taking interviews, based on skills, competencies along with industry-specific job experiences, etc. 
Essentially, we look towards our vocational training systems for our sourcing needs whereas highly skilled & technically qualified Professional categories required are sourced from our active database. 
We also post the requirements on university career centers, social networking sites, our job portal, called TopJobs and even have professional access to some leading premier job sites such as BDjobs, a leading Bangladesh job site, and LinkedIn which also contains a large database for all industries.
With each of the categories, we recruit highly relevant candidates, have them go through a stringent interview process. By combining all these facets, we can pledge our clients to get the most effective and apt candidates for the position.
2. Background Checks/Verification & Interview Process:
We have a preliminary interview process – a testing platform via a mobile application, where they are made to go through personality-based psychometric tests, aptitude based specific questions and industry-specific competency tests.
With all our shortlisted candidates, we do background verification checks where we:
– Talk to previous employers
– Talk to existing employers
– Talk to community leaders
– Acquire Police verification
– Acquire a financial fraud history
Once we have vetted and checked the candidates, a checklist of documents are uploaded to our portal and made into an employee file. 
After further shortlisting, we arrange client interviews, which can be done in several ways:
From the initial interviews, we prefer to take in-person videos and create video links. Clients can choose to do an online interview, use a video link, or we can arrange in-person direct client interviews with the candidates.
For technical interviews, we have an assessment center where clients can come and host day-long assessments where technical tools are available for participation and see how well jobs can be done in a practical environment.
At any given time during these assessments, our clients take a deeper look at our system without there being a language barrier, thanks to our in-house translators and interpreters.
3. Training:
Similar to our HR consultancy's training and development program, we at
LOKOBOL
provide our clients with customized training that are tailored to meet their specific needs.
We have a great deal of expert trainers and global affiliations that can provide you with the top soft skills and specific technical training. The programs we host are based on focused groups of audiences that are result driven and performance measured, according to the Training Needs Analysis, to deliver end results feedback. We bring in the best of global content using our international affiliation with the top, most globally recognised brands.
4. Visa Processing & Flight Scheduling:
For the chosen candidates' visa processing, we require a number of different documents – 
Personal Files 
CVs
Passports & NIDs
Bank Statements
Police Verification
Guarantor Form
Clearances
Visa Application Forms
Foreign Mission No Objection Certificate
Flight Scheduling
Provision of Boarding Kits
5. HR Management:
At LOKOBOL, we ensure systematic management tools that ensure productivity, efficiency and cost effectiveness. Our HRIS software registers each candidate with an online ID/portal which they can use to discover the full extent of their experience. We focus on ensuring our service is dedicated not just inaccurate payroll service, but more importantly to excel in attaining the best return on your investment. Thus, we create an international web of information that will result in delivering top performances and returns for your business.